O nata lux (SSAA)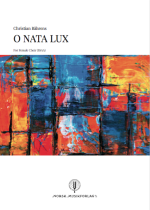 Dieses 2019 komponierte Stück für Frauenchor ist beim NORSK MUSIKFORLAG erschienen, wurde vom namhaften lettischen Frauenchor BALTA im Dezember 2021 in Riga uraufgeführt (siehe Video unten) und eröffnet auch die im Januar 2022 erschienen CD KLUSUMS-Silence.
Auf die Premiere von O NATA LUX folgten zahlreiche sehr positive Reaktionen (siehe unten).
Die Noten können direkt (digital und in der Printversion) bestellt werden: Norsk
Uraufführung O NATA LUX - Frauenchor BALTA / Riga
Reaktionen
I am very happy about our cooperation, your "O nata lux" is very beautiful and sounds wonderful - we are looking forward to new pieces from you!
(Mara Marnauza, conductor of the world premier with BALTA, Latvia)
Six minutes paradise!
(Gunilla Neukirchen - headmaster of Beethoven Gymnasium Berlin and choir singer)
Well, "O Nata Lux" will not find a more beautiful interpretation than by the Baltic ladies - leave it at that and simply enjoy. Wonderful!
(Torsten Pinkert, Lufthansa captain, choir singer and bagpipe player)
Congratulations on your composition "O Nata Lux", which is fantastic! Wow, what an interpretation - I believe you have felt extremely happy with this interpretation. Bravo!
(Memli Kelmendi, composer and conductor, Kosovo)
Thank you for sharing your wonderful composition, I very much enjoyed it and will look forward to browsing your music!
(Ryan Main, composer, USA)
Wonderful sounds, moving, fantastic voices, really a feast for the ears!
(Bettina Pieck, Alto singer and member of Berlin Radio Choir)
Wonderful! "O nata lux" is from now on in our schedule for January 2023!
(Christiane Steinemann, director of Augsburg female choir VOX FEMALE, Germany)
I listened to BALTA's streaming concert and congratulate you to your wonderful piece which was the most beautiful of the whole program! (Gerhard Liebenthal, Berlin)
A great piece which absoultely thrills me! (Volker Riedinger, Germany)