Portrait
Christian Bährens first studied singing along with his music teacher's traiing at the University of arts. His first teacher was Prof. Richard Gsell, a renowned teacher of Italian belcanto. After his exams Christian Bährens intensified the voice training for his Wilmersdorfer Kammerchor and came more and more to sing solo recitals. At a seminar for functional voice training in 1990 he met Markus Haas who soon became his new teacher and has been ever since. Haas' convincing concept CantoFun has step by step become his own and is the fundamt of his own voice teaching with his choirs and at successful workshops for several music institutions.
He started his solo activities as as evangelist in Schütz's St. Matthew Passion, sang the bass solo part in Bach's Christmas Oratory and several cantatas and different sacred songs (baroque and romantic) in services and concerts. He perfomed various concerts and went on tour with the lutenist Konrad Navosak presenting a sacred program (songs and cantatas by Campra, Cazzati, Schütz et.al.) and "Of love and sorrow" (lute songs by Campion, Dowland, Morley et.al.).
In 2003 he sang his first romantic recital. Together with pianist Monika Gröbl he presented the Eichendorff song cycle op. 39 by Robert Schumann and the Songs of Travel with the poems of Robert Louis Stevenson composed by Ralph Vaughan Williams. In the same year he also sang the male title role in Purcells Dido and Aenas as well as some of the composer's finest songs ("Music for a while", "Sweeter than Roses" et.al.).
In the following years some more concerts with the Schumann - Vaughan Williams program and with "Of Love and Sorrow" the repetoire was widened by works of Rosseter and Wolf.
In 2012 Christian Bährens performed Schuberts Winterreise together with the Australian pianist Phillip Mayers, combined by an exhibition of 24 pictures (all foto collages, each related to a special song) created by the Berlin Artist Horst Zeitler.
This project was repeated in 2014 with the pianist Andreas Lisius who is also his partner for the actual project "Let beauty awake" with selected songs by Roger Quolter and the Songs of Travel von Ralph Vaughan Williams which will be in the centre of Horst Zeitler's new exhibition.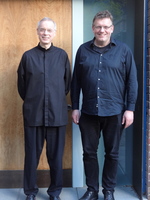 Das Winterreise-Projekt wurde 2014 mit dem Pianisten Andreas Lisius wieder aufgenommen. Im April 2016 präsentierten die beiden Musiker ihr neues englisches Programm unter dem Motto LET BEAUTY AWAKE mit den Songs of Travel von Ralph Vaughan Williams und zahlreichen Liedern von Roger Quilter. Horst Zeitler schuf zu den Songs of Travel eine Serie von Radierungen, die vor dem Liederabend ausgestellt wurden und Matthias Knop moderierte die Musik. Eindrücke in Wort und Bild von diesem Projekt unter Let Beauty Awake
Weitere Konzerte und neue Programme werden folgen.