Most people live for a house. But some live for a song.  Eva Strittmatter
Dear visitor!
In my wonderful hometown Berlin I am active as conductor of various choirs, as singing teacher and voice trainer for other choirs, as part-time teacher of music at Beethoven Gymnasium. Whenever I find the time I am alos active as a solosionger and composer.
You can roam this hopmepage and find out more about my ensembles, the upcoming concerts, workshops and my teaching options. You also find interesting musical (and other) recommendations and listen to different music files of my repertoire. Do not hesitate to add to the guest book or get into contact with.
I am sorry that can reconstruct the English version of my website only from time to time and that some passages are still in German. I will do my best to improve all the entries this summer!
Enjoy roaming, reading and listening!
Wegen der Corona-Pandemie müssen leider abgesagt bzw. auf unbestimmte Zeit vertagt werden: die Konzertreise des Vokalensembles Cantico Nuovo nach Barcelona (16.-19. April), das Stimmbildungsseminar für den Bundesverband Musikunterricht (BMU, 25. April) und die Aufführungen des Mozart-Requiems durch den Wilmersdorfer Kammerchor (8. und 9. Mai).
Happy Disharmonists (Berlin): Scheiß Corona!
Das aktuelle Video von meinem Kollegen Carsten Gerlitz und seinen wunderbaren Happy Disharmonists
One day more - Les misérables Corona cover version
Neu: O magnum mysterium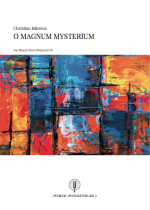 Vor wenigen Wochen ist mein neues Chorstück O magnum mysterium bei Norsk in Oslo erschienen. Näheres unter: Norsk
Last Update:  2 October, 2019