Most people live for a house. But some live for a song.  Eva Strittmatter
Dear visitor!
In my wonderful hometown Berlin I am active as conductor of various choirs, as singing teacher and voice trainer for other choirs, as part-time teacher of music at Beethoven Gymnasium. Whenever I find the time I am alos active as a solosionger and composer.
You can roam this hopmepage and find out more about my ensembles, the upcoming concerts, workshops and my teaching options. You also find interesting musical (and other) recommendations and listen to different music files of my repertoire. Do not hesitate to add to the guest book or get into contact with.
I am sorry that can reconstruct the English version of my website only from time to time and that some passages are still in German. I will do my best to improve all the entries this summer!
Enjoy roaming, reading and listening!
New compositions edited!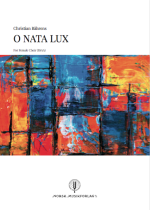 After the publication of Peace I leave with you for female choir, Jubilate Deo and A Dream for mixed choir by Ferrimontana the Scandinavian publisher Norsk will soon present the Advent song arrangement Maria durch ein Dornwald ging (female & male choir version) and the motets Thank God for life and love and O nata lux (both for female choir). Details here: compositions
30 years reopening of the Glienicke Bridge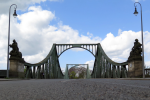 On Sunday 10th November at 6 p.m. we celebrate the 30th anniversary of the re-oprening of the Glienicke Bridge (known by film fans as Bridge of Spies) with a ceremony in which the "super-choir" (gardes 8-12) of Beethoven-Gymnasium in Berlin-Lankwitz take part with music! All visitors are invited to sing along the round Dona nobis pacem and the first two stanzas of the European hymn (Beethoven's Ode to joy)!
Let us fly again - Music for two violins and choir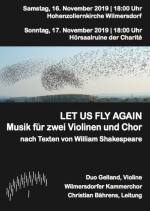 The Wilmersdorfer Kammerchor and Duo Gelland celebrate there musical reunion under the motto "Let us fly again" and present music on Shakepeare texts, some as premier perfomances, on 16th and 17th November 2019 at two very interesting venues.  Details here: Let us fly
Festive Choral Music for Advent: Handel Messiah (part1)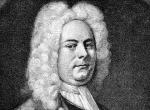 On Sunday 1st Dezember 2019 (1. Advent) we present a Festive Concert for Advent  in the Matthäuskirche Steglitz with soloists from the Rundfunkchor Berlin, the barock ensemble Concerto Grosso and the Matthäus-Kantorei. We are going to perform the frist part of Händel#s Messiah, the Magniifcat by Henry Purcell und englischce Carols. Details follow shortly.
Last Update:  2 October, 2019