A song shall be my calling. (Kim Stafford)
Peace for the Ukraine!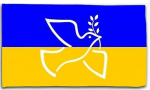 Dear visitor!
In my wonderful hometown Berlin I am active as conductor of various choirs, as singing teacher and voice trainer for other choirs, as part-time teacher of music at Beethoven Gymnasium. Whenever I find the time I am alos active as a solosionger and composer.
You can roam this hopmepage and find out more about my ensembles, the upcoming concerts, workshops and my teaching options. You also find interesting musical (and other) recommendations and listen to different music files of my repertoire. Do not hesitate to add to the guest book or get into contact with.
I am sorry that can reconstruct the English version of my website only from time to time and that some passages are still in German. I will do my best to improve all the entries soon.
Enjoy roaming, reading and listening!
DONA NOBIS PACEM - A prayer for the Ukraine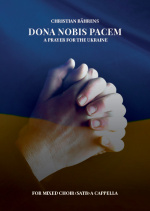 This new piece I composed as a plea for peace in the Ukraine. It has just been published by NORSK MUSIKFORLAG. All details here: DONA
World Premier in Riga: O NATA LUX
The oustanding, wonderfully sounding premier of O NATA LUX - just enjoy! Reactions and more information see O NATA LUX
Chorkonzert mit Orgelmusik 2
Am Samstag, 15. Oktober 2022 um 18 Uhr findet in der Matthäuskirche Stegltz das nächste Konzert der Matthäus-Kantorei statt, die gemeinsam mit dem Organisten Patrick Wildermuth ein geistliches Programm präsentiert bei dem das Requiem von Rheinberger und die Uraufführung meiner Motette "Dona nobis pacem - A prayer for the Ukraine" im Mittelpunkt stehen. Näheres hier: Kantorei
Last Update: 29th September, 2022