Most people live for a house. But some live for a song.  Eva Strittmatter
Dear visitor!
In my wonderful hometown Berlin I am active as conductor of various choirs, as singing teacher and voice trainer for other choirs, as part-time teacher of music at Beethoven Gymnasium. Whenever I find the time I am alos active as a solosionger and composer.
You can roam this hopmepage and find out more about my ensembles, the upcoming concerts, workshops and my teaching options. You also find interesting musical (and other) recommendations and listen to different music files of my repertoire. Do not hesitate to add to the guest book or get into contact with.
I am sorry that can reconstruct the English version of my website only from time to time and that some passages are still in German. I will do my best to improve all the entries soon.
Enjoy roaming, reading and listening!
Corona
During the Corona pandemic all musical activities have been restricted or made impossible. All visitors of my homepage I wish good health and strength for these difficult times!
Seven Psalms
My new composition has recently been published by Ferrimontana: Seven Psalms for Bass oder Alto solo - Details: Kompositionen
O magnum mysterium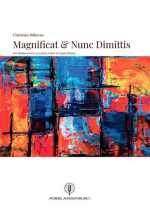 For some weeks my new choral works have benn available at NORSK in Oslo: O magnum mysterium (SATB) - Ave Maria (SATB & SSAA) - The Lord is my light and my salvation (SMATB) and Magnificat & Nunc dimittis (solo or choir unisono & organ). For details click to: Kompositionen
Claudio Abbado - Hearing the sllence (Sketches for a portrait)
A wonderful documentary about one of the greatest conductors of all times.
Last Update: 30 July, 2020