Audio samples from concerts in 2016 und 2017
Bährens: Kein schöner Land
Byrd: This sweet an merry month of May
CD - Dido&Aeneas
The CD live recording of Purcells Dido&Aneas from the concerts in 2015 can be ordered here. A slimbox CD is available at € 12,- (plus 2,- postage). Please use Kontakt for your order. Some music samples can be found below.
To the hills and the dales
Englisch Romantic Partsongs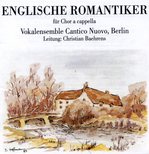 The CD Englisch Romantic Partsong was produced in 1993 and is the most successful and poular choral CD of Christian Bährens. she has been broadcast several times by RBB and still wins new fans. All the songs can be listend to at Youtube and partly here on this website. The CD can't be purchased in shops, but you can order it here bey using the Kontaktformular.
The CDs repertoire:
---
Julius Benedict: Dirge for the faithful lover
---
Edward Elgar: My love dwelt in a northern land - As torrents in summer
---
Arthur McFarren: Orpheus with his lute
---
Hubert Parry: There rolls the deep - Music, when soft voices die
---
Robert Pearsall: Who shall have my lady fair? - Lay a garland
---
Charles Villiers Stanford: Diaphenia - The Haven - When Mary through the garden went - Shall we go dance? - Heraclitus - Coyrdon arise
---
Arthur Sullivan: O hush thee, my baby - The long day closes
---
Folksongs: The oak and the ash - Danny boy
Charles V. Stanford: Diaphenia
Charles V. Stanford: Shall we go dance?
Joseph Barnby: Sweet and low
Edward Elgar: My love dwelt in a northern land
My love dwelt in a northern land
Arthur Sullivan: The long day closes
Folksong: Danny boy (Londonderry Air)